Hello from the UK

I came across this website at the weekend, and as well as ordering a sample of the magazine I decided to join this forum.
I have been interested in UFO's and conspiracy theories since childhood, as a family we witnessed what we believed to be a UFO when I was about 6 or 7 years old one winter night, and it subsequently made the news and the local papers the following day. I think that extraordinary event fueled my inquisitive mind and it is a subject that has intrigued and interested me ever since.
Last year I was lucky enough to have been treated to a week in Las Vegas to celebrate my birthday and among the many outrageous, funny, and amazing wonders that I experienced in Viva Las Vegas one of the highlights was seeing Area 51.
It was the morning we were due to fly home, and we woke up at 5am. Unable to get back to sleep my husband suggested one last adventure - Area 51. I panicked slightly, I was beyond desperate to go but we had to be at the airport for 1pm, would we make it out there and back in time? What if we broke down in the middle of the dessert and missed the flight? In the end curiosity got the better of me and so we left the beautiful Venetian Hotel, climbed into our Mustang and hit the open road. And yes, I do mean the open road – wow I have never driven on roads quite like them! You would never see anything like this in England. I loved the roads, they were amazing and driving was once again a pleasure instead of merely a way to get from A to B.
They were absolutely amazing, miles and miles of wide straight road with hardly a car in sight. At a town called Alamo we filled up with gas, not knowing when the next station would be and fearing getting stranded. It was a good job too, it turned out that the next gas station was 110 miles away! Filling up next to us with a big military truck was a youngish dude in army fatigues, he glanced over at us and said to my husband 'Hey, nice ride'. It made me chuckle, it was like being in a movie. We left the station at about the same time, and I was adamant that the army dude was going to the same place we were, what else was out there in the middle of the Nevada dessert? "Follow that man!" I said to my husband feeling like someone out of Starsky & Hutch, but unfortunately he was driving quite a bit slower than us. We got bored after a while and zoomed away, my hair flying in the wind. Getting a brush through that later was a killer. Open top Mustangs may look cool, but if you have long hair take my advice: just don't.
Finally we reached Highway 375, which is officially named the Extraterrestrial Highway as there have been many UFO sightings on this practically deserted 98 mile stretch of road. Rachel is the only town on this highway and the nearest to Area 51. Population: Humans 74, Aliens ? Rachel boasts a thrift store, a Baptist church and the world famous Little A'Le'Inn which provides food, drink and lodging as well as souvenirs, very friendly staff and lots of amusement. You may in fact have seen it on TV, it has featured in a number of programmes over the years, or maybe you have made that pilgrimage yourself. We bought a few choice items (t-shirts, pack of alien playing cards) and I asked if I could take some photos which were happily approved. We were also given directions on how to drive out to the airbase itself.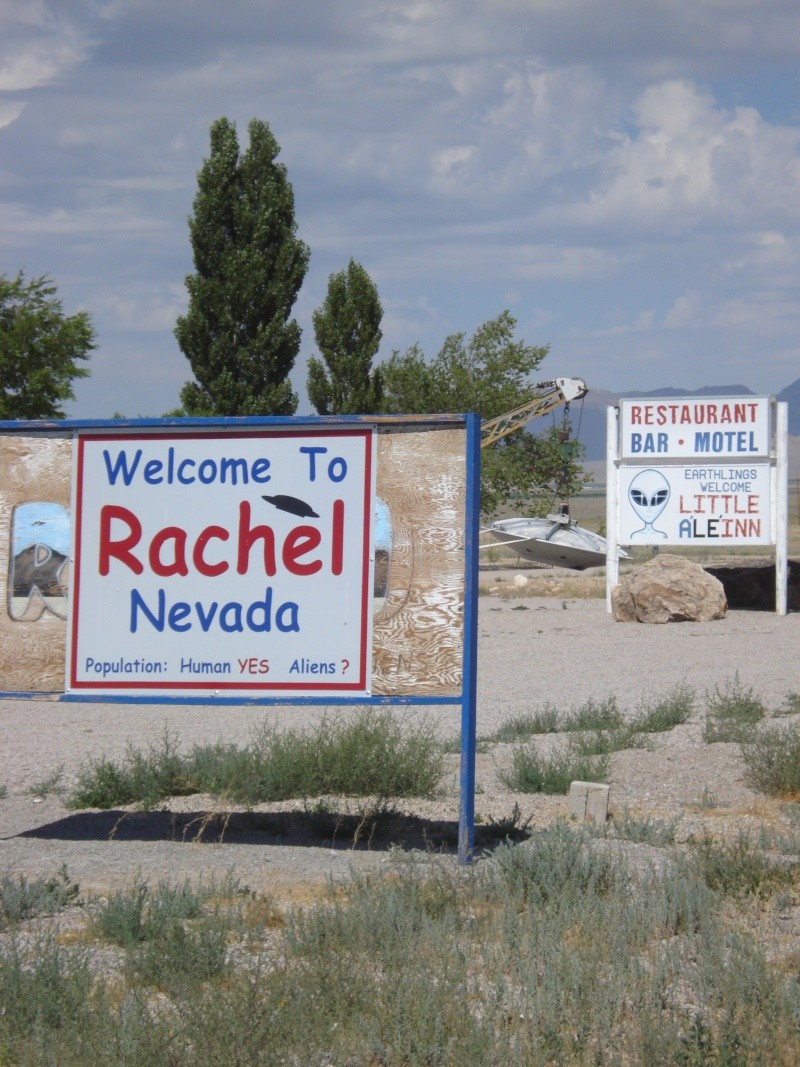 Waving goodbye lovely Connie (and having got a slapped hand from her for having driven out there on the day we were due to fly home) with the specific instruction NOT to cross the boundary line in the road when we arrived at Area 51 and not to be at all surprised if we were being watched by men in a pick up Chevy on top of a hill by the airbase, we headed back the way we had come. Turning up Groom Lake Road we followed various dirt tracks and a number of instructions (turn left at the big water tank, turn right at the 3rd fork in the road..) and then we followed the same dusty track for about 20 miles. We passed a number of very discreet cameras on this one road, the folks at Area 51 knew we were coming long before we had actually arrived. In some literature I had bought at the Little A'Le'Inn it said there were pressure sensors in the road, cameras mounted in strategic places and heat sensors which could tell the difference between a human and an animal. They'd probably run our number plate and knew exactly who we were and what brand of toilet roll we purchased by the time we arrived. It was clear this was pretty serious stuff, I began to get a bit nervous but damn it, it was exciting!
Suddenly rounding a corner we were there, and we were not alone. Not too far from us just on the top of a slight hill sat a pick up Chevy with 2 men in it, watching our every move. I felt like a criminal, but I'd done nothing wrong. Yet.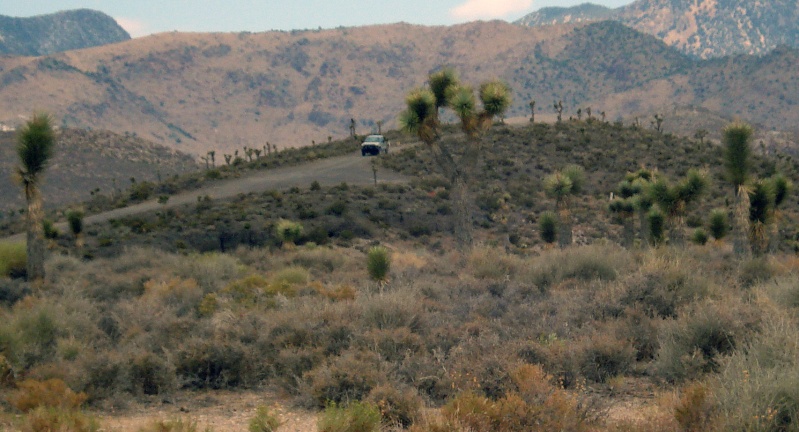 Very carefully I got out of the car, not making any sudden movements and discreetly hiding my camera. I walked up to the boundary line and read each warning signpost, taking my time. I could feet their eyes burning into my head, willing me to do something so they could throw me to the ground, shove a gun in my face and call the sheriff to arrest me for trespassing. The temptation to just stick a foot over the line, maybe even just one toe, was excruciatingly huge. Surely they wouldn't arrest me for that, would they? I pondered this conundrum for a minute or two and in the end decided it wasn't worth the risk. These guys meant business and I had a flight to catch, I couldn't faff about in Alamo jail for half a day protesting my innocence and fluttering my eyelashes no matter how much fun that may have been.
Despite the 'No Photography' warning on the signposts, I had been advised by Connie in the Little A'Le'Inn that it was safe to snap a pic or too, so I decided to risk it (from the safety of the car, as we were hightailing it quick smart out of there of course).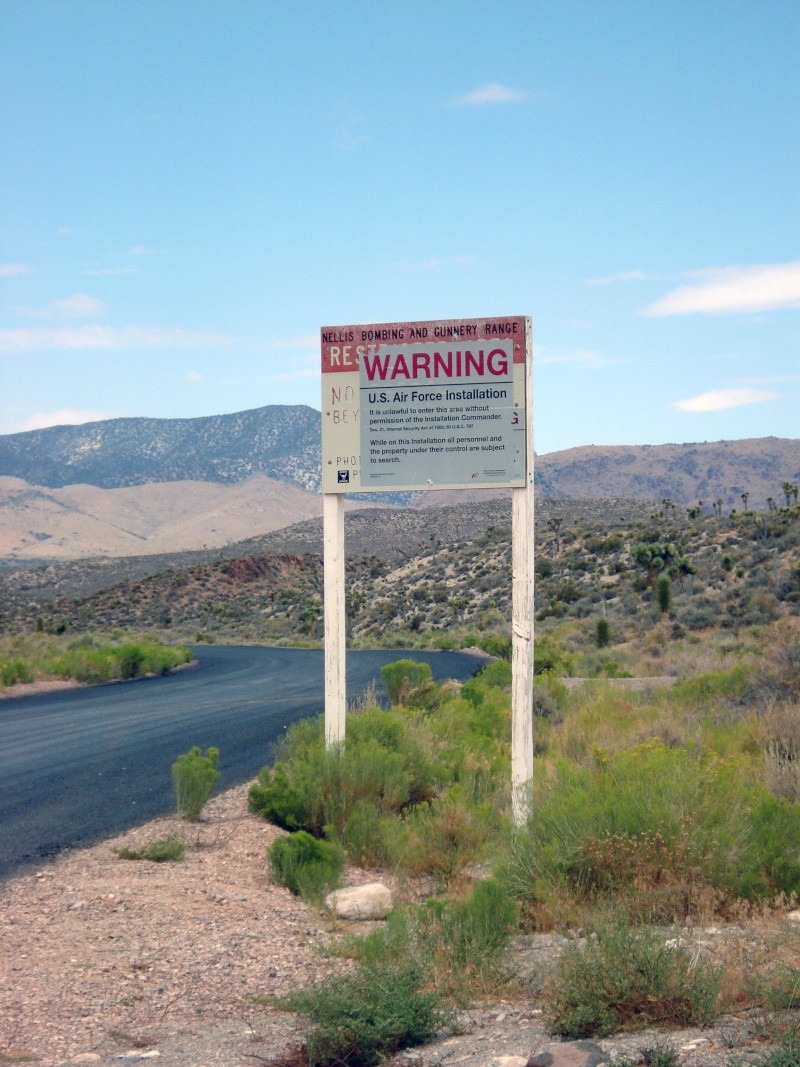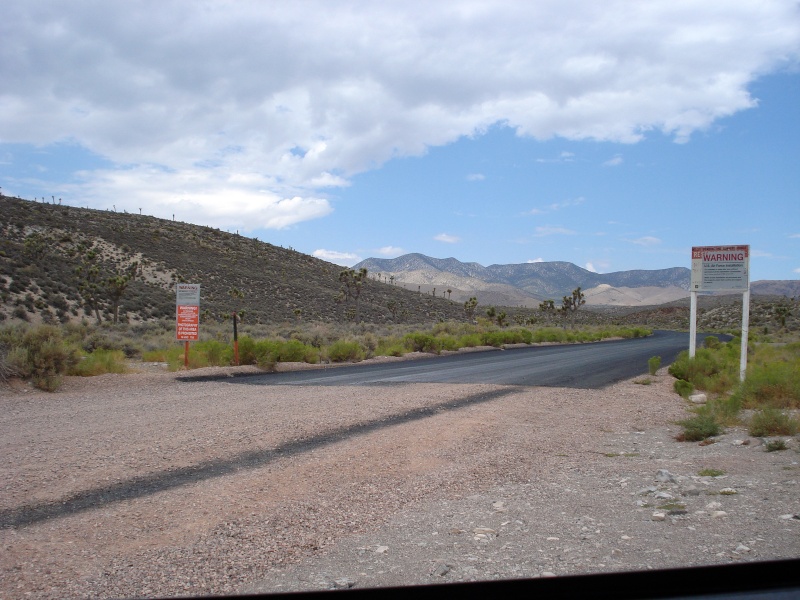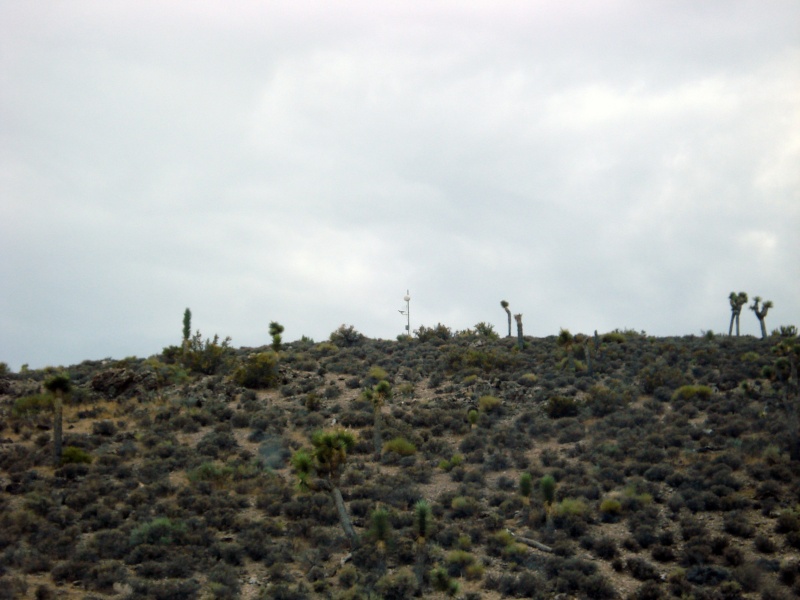 We ended up arriving back at the airport an hour and a half late, but we did make the flight with time to spare. We also got stopped on Highway 375 for speeding, but that's another story entirely! I am planning to return, and to stay a few nights at the Little A'Le'Inn so that we can watch the skys a little. It was great fun
I look forward to chatting to you all in the future